this monday, my boyfriend & i will embark on a road trip from annapolis to la by way of new orleans, austin & las cruces. here are a few of my travel essentials.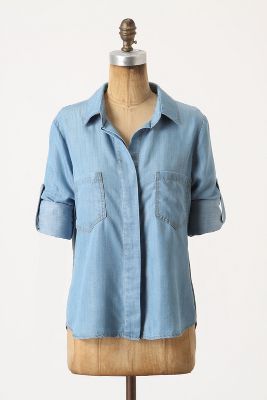 i've worn this
chambray shirt
everyday this past week. it's the super soft and versatile; there is a deep slash up the center back and tapered tails, which allows me to knot it at my waist without it looking baggy.
this
shirtdress
may be see through, but that's what the chambray shirt is for.
last summer i puchased a pair of
mens levis 501s
and cut them into shorts. i wore them throughout summer without washing them, to get a perfect fit. they're my favorite summer piece.
a really great pair of sunglasses. my boyfriend bought me a pair of vintage anne klein sunglasses similar to
these
.
eos organic lip balm
is the best ever. i have tried 50 or so lip balms in the past and none have done the job nearly as good as this one.
john masters organics sea mist
is my best friend in a bottle; i spray it on damp hair just as it's beginning to dry. for second day hair, i just spray it over dry hair and work it through with my hands. it eliminates blow drying and brings out my natural waves.
and candy. lots and lots of candy. i will be stocking that car with candy like it's nobody's business.